Eleven Nutrition Centers are feeding nearly 900 children a nutritious hot meal six days each week along with vitamins
-
Nutrition
Due to poverty, many children go without a meal or with poor nutrition each day in the Dominican Republic and Haiti.  GO Ministries seeks to provide adequate physical and spiritual nourishment to at risk children through our Nutrition programs by offering daily meals (6 days a week), spiritual curriculum, opportunities for further discipleship as well as developing basic life skills in order to provide redemptive futures for the children.

What We're Doing Now
We currently have 11 Nutrition programs in the following communities:
Hoyo de Bartola
Pata de Gallina
Los Guandules
Hato del Yaque
Los Pérez
Batey 9
Batey Cuchilla
San Marcos
La Mosca
Brisa de Ocampo
Phaeton, Haiti (1 day a week)
Through GO Partnership we:
Track funding and expenses
Provide spiritual development curriculum and train leaders to utilize it
Offer regular opportunities for deeper discipleship for children who are interested
Develop various community development projects appropriate for children to provide opportunities for personal growth and the development of basic skills
Offer various workshops or classes that teach the children a skill
Provide redemptive opportunities that will give children an alternative to simply being in the streets
What We're Going to Do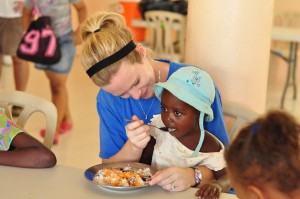 Per pastors requests, we will continue, through Partnership, adding additional Nutrition programs in communities with need.