Restore Creation
Restoration of Creation is meant to imply moving towards the ultimate completion of God's will for the world as it was intended to be.  This is all things made new and restored to rights.  It is what we are pushing towards and what God is ultimately going to complete and perfect.  Restoration is the culmination of redemption and renewal.
What Restoring Creation looks like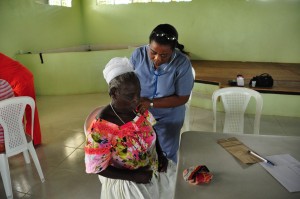 Illness and disease wrecks havoc on God's creation. Dr. Belsabeth seeks to change that every day as she enters the GO Medical Clinic and assesses the aches and pains of people in order to deliver them from illness to restored health.  In a year's time, over 6,000 patients are seen and given not only physical care through the medical clinics, but spiritual care through Dr. Belsabeth's prayers over them.  It is a beautiful picture of how God is Restoring Creation through medical care.