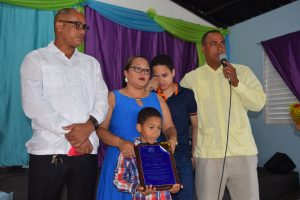 We are called to make disciples and Felix has faithfully done that for the past 15 years in Hoyo de Bartola.  He and his wife, Jenny, planted the church there, began identifying peace makers in the community, started the Nutrition Center, developed the water purification outreach, and most recently helped with the sewing ministry that has turned into a Kingdom Business. He was empowered to faithfully serve in The Hole and to now faithfully expand the Kingdom beyond The Hole.
A journey that started roughly this time last year has now started to bear fruit. In April of 2016, Pastor Felix Abreu went to a church planting conference and felt challenged to be part of the original church planting team for GO Ministries. After much discernment and prayer, Pastor Felix will now be working full time in a new community to plant a new church. The new community he is now transitioning to is called Licey which is just inside the city of Santiago.  He describes it as a community that combines the communities of The Hole and Hato del Yaque.  It is very poor, rural, and has few Christians to lead with Hope of restoration and renewal.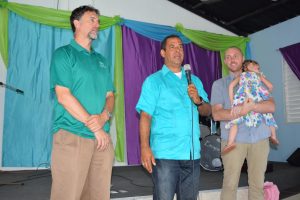 This past Sunday, the church in the Hole celebrated with Pastor Felix and his family as they sent him out into his new community. Caribbean President, Eduard Gabriel and our Lead Director of Church Planting, Chris Hornbrook were present at this celebration for Felix.
He has been discipling Rafael Torres and a few years ago, officially hired him as an assistant to help run the outreach programs of the ministry in The Hole.  Rafael will continue to faithfully serve in that capacity.  Pastor Francisco Javier Del Rosario has been serving with Rafael over the past few months in The Hole.  He was a pastor in a poor community in Puerto Plata for several years before moving to Santiago.  He humbly started the GO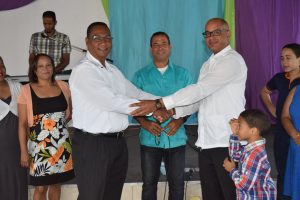 Seminary of the Americas program to expand his knowledge and better equip him for incarnational ministry work.  He will graduate this June from the 4-year program and is taking on the full-time role as pastor in Hoyo de Bartola.
Please keep he and his family in your prayers as they learn and build relationships in a new community to plant a church and for Pastor Francisco as he continues the work in Hoyo de Bartola.