FOCUSED AREAS OF MINISTRY
Each team has the opportunity to choose a focused area of ministry for their trip. Once you have chosen the focus for your week, a Team Coordinator will work with you to provide further details and any supplies you will need to bring to ensure a productive and meaningful time of ministry.
GO BUILDING and SERVICE PROJECTS
Teams have the opportunity to serve in this area for 1, 2, or 3 days.
BUILDING PROJECTS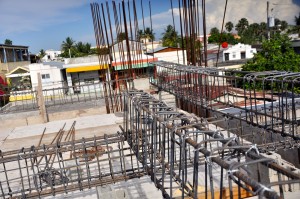 The three main building projects that teams are currently working on are:
 GO Medical Center
 Central Church Expansion
 Leadership Development Complex
Your team can partner with the ministry to further the progress of these projects. If you have a preference as to which project to work on, we will do our best to accommodate your request.
SERVICE PROJECTS
The vision of GO is to empower local leaders to serve in their own culture and community. Your team can choose to come alongside these local leaders to reach out and bless the members of the neighborhoods in which they live and work. Projects include painting houses and schools, pouring concrete floors in houses and picking up trash, as well as other specific areas that local leaders have identified as a need. If you partner with a local leader it is our desire that you will spend your time serving in their community.
MEDICAL OUTREACH

In the Dominican Republic poor and sporadic funding of public hospitals makes healthcare difficult for the majority of people to obtain. These hospitals have talented staff, however, often fail to have adequate supplies for everyday operations. Any illness creates a difficult situation; it's made worse if you happen to be sick and among the poor.
Medical professionals have a unique opportunity to share their talents by assisting the GO Medical Team through remote medical clinics across the island. Non-medical team members can also serve by signing people in, handing out assigned medication, and assisting the medical professionals. We recommend you recruit between 10-12 team members with a minimum of 3-5 medical professionals (Physicians, Nurse Practitioners, Nurses, etc.)
What it looks like:
Each medical mission team is unique, however most medical clinics will be facilitated in a church or school in the community that you are serving in. Your team will work alongside of our local leaders and North American medical team. The clinic will be 3 or 4 days, and will be composed of a triage station, area to be seen by a medical provider and a pharmacy station.
Some common illnesses you will encounter in the Dominican Republic are: parasites, malnutrition, the common cold, various infections, hypertension, diabetes, and dental issues.
Medications:
Medical teams will need to raise the funds for GO to purchase the medication for your clinic in the Dominican Republic. The average cost is $3,000. There are a few items that cannot be purchased in the DR. The GO Medical Team will provide you with a list of over-the- counter (OTC) medications to brings with you.
GO KINGDOM KIDS

We are thrilled for the opportunity your team will have to show Christ's love to children in a community in which a GO pastor is at work. We do Children's Ministry to encourage kids in the community towards a relationship with Christ and also to draw attention to the local church so families scan become more consistent in their faith development. Whether you are in the mountains, in the city or in rural areas, you team can have a big part in extending Christ's love through teaching God's Word, worshiping in song and prayer, and engaging with children through meaningful activities. We have several different ways you can engage in Kingdom Kids.
No matter which option(s) you choose our team of coordinators are excited to walk with you as you prepare for ministry.
KINGDOM KIDS OPTIONS:
1. Kids Festival This is a fun and playful time to love on some kids! Typically a team will choose to do a Kids Festival in the morning and return in the afternoon for a Kids Club in the same community.
2. Kids Club This would include a Bible lesson, songs, activities that your team will do in 1-3 different GO communities. GO will provide your team with a Bible lesson, and from there your team will plan group activities and a craft to do with the kids.
3. Kids Camp Similar to VBS in the States, Kids Camp is a high energy, fun and lively program to engage a group of kids for several continuous days, with a message to choose and follow Jesus! When you choose this option, Kids Camp will be your primary focus for the week. Your team coordinator will guide you through purchasing the appropriate curriculum.
SPORTS OUTREACH

GO has over 300 kids who are regularly a part of our GO Sports Academy (baseball and basketball) and
11 full-time coaches who lead, train, and disciple them throughout the year. In addition to our GO Sports
program, there are a number of communities within GO where sports are being utilized for ministry. We love when teams come down to partner with our coaches and communities to help train and disciple kids across the island!
SPORTS CLINICS
Over the years we have led baseball, basketball, soccer, football, and volleyball clinics. In order to accomplish a successful sports clinic, we like to partner with groups of athletes and coaches who are passionate about a particular sport and are interested in engaging the community alongside of our Dominican and Haitian coaches. Sports clinics consist of a time for training and instruction in the morning, and formal games in the afternoon. Teams will be asked to bring equipment to help run a quality clinic.
COMMUNITY CAMPS
The purpose of GO Sports Community Camps is to come alongside the local leader in various communities to encourage, support, and assist in growing their program for the week your group serves with us. Some sports that we have hosted in these communities are baseball, volleyball, basketball, and soccer. In order to set up a successful Sports Community Camp, we ask that at least 25% of your group either coaches or plays the sport you wish to help lead. Teams will be asked to bring equipment to host a quality camp.