GO Ministries' single largest fundraising event of the year is through volunteering at the Kentucky Derby. With the help of over 200 volunteers, we are able to raise over $80,000 each year. Please help us make a difference all over the world by the giving of your time and talent. It is amazing how much of an impact you can have by just volunteering for a few days!
Here are the details: Fanatics Inc. is the market leader for officially licensed sports merchandise and provides the ultimate shopping experience to sports fans. They have recently become the official merchandise provider for The Kentucky Derby & Oaks. Fanatics provides all of the products and GO Ministries set up and staff their souvenir booths. We need sales people for the week prior to Derby, but the big days are Thursday May 2nd, Friday May 3rd and Saturday May 4th.
Schedule:
Tuesday, April 30th: 30 volunteers to set up and sell
Wednesday, May 1st: 40 volunteers set up and sell
Thursday, May 2nd: 75 volunteers to sell
Oaks Friday, May 3rd: 140 volunteers to sell
KY Derby Saturday, May 4th: 150 volunteers to sell
Sunday, May 5th: 20 volunteers to tear down
---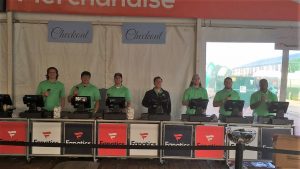 We are up to the challenge again this year and would like you to help us by volunteering and getting the word out! Please consider helping us out. We need roughly 160 people that can work all three "BIG" days: Thursday May 2nd, Friday May 3rd and Saturday May 4th. With all of our volunteers, Fanatics has requested that you be at least 15 years of age. If you know someone who wants to help out but can only commit to one day we can CERTAINLY use them but we really NEED people who can do both if possible. Our goal for this year is to once again earn $100,000 to help the ministry!
Please consider sharing this information with your friends, small groups, church, etc. It will be a great opportunity to hang out while helping us make a difference.If you would like to recruit a team from your church, school, Bible study, etc. to go with you let us know and we will be sure to help answer any questions you may have. Click Here to Contact.
---
Frequently Asked Questions:
Where do we meet and when?

Half of the week we will meet at Gate 10 & half of the week we will meet at Gate 1. Parking is mostly at the expo center and shuttles bring groups over every 15 minutes roughly. The buses will drop you off at our meeting points. More details will be emailed closer to the event.

Is there a uniform?

Yes! All volunteers should wear khaki pants, an official Derby polo (provided by us when you check-in) and comfortable shoes – you will be standing most of the day.

What will I be doing?

Our volunteers serve by working the cash register, answering basic questions for customers (prices, size availability, etc.) and occasionally restocking items.

Will I be trained?

Yes! Each day a location manager will show everyone in the tent how to work the cash register, which is a basic Android system. Managers will be available throughout the day in case of technical problems.

Will there be breaks during the day? Lunch? Restroom Breaks?

Yes! Everyone will have a lunch break. We provide $10 to volunteers for lunch on Friday and Saturday. Restroom breaks can be rotated with your fellow volunteers. Each location will have bottled water and light snacks.

This sounds awesome – I want to serve! How do I sign up?
If you are interested in bringing a group of 10+, coming in from out of town and need help securing housing, or have any other questions, please email Juan Casa del Valle – jcasadelvalle@gomin.org